CHOREGUS PRESENTS
SOLEDAD BARRIO &
NOCHE FLAMENCA
TUESDAY & WEDNESDAY
IN TULSA
"(Noche Flamenca) seized the audience with joyous exuberance and great generosity of spirit among the performers."
"Barrio is a genius at gathering the collective energy of the crowd and compressing it into an explosive mix that she unleashes at the audience. She has the power of a bruja, conjures magic with her dance and gives a deeply personal, transcendent experience that she generously shares with the audience."
—Andrew Blackmore-Dobbyn, bachtrack.com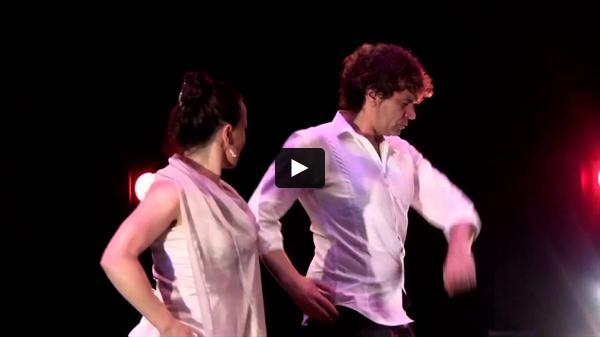 Soledad Barrio & Noche Flamenca




PERFORMED WITH LIVE MUSIC


Tuesday, March 31, 7pm


Wednesday, April 1, 7pm




Williams Theatre, Tulsa Performing Arts Center

Hailed by critics everywhere for its transcendent and deeply emotional performances, Noche Flamenca, with Soledad Barrio its star, is one of the most authentic flamenco companies in the world today bringing to the stage the essence, purity, and integrity of one of the world's most complex and mysterious art forms. In a unique creative partnership, this remarkable company joined with acclaimed American theater director Lee Breuer to create a new work, Antigona, based on Sophocles' ancient Greek heroine. Combining live music, song, and dance, Noche Flamenca will perform excerpts from Antigona, bringing the fiery, expressive nature of flamenco to one of the world's great tragedies. The company will then leave you breathless as they fill the second half of the evening with captivating flamenco dance and music.

INDIVIDUAL TICKETS ARE $40
Hurry...Tickets are going fast: 918-688-6112


or go to

myticketoffice.com
SAVE

on the 3 remaining 2014-2015 Choregus Season events (click each event for more info)




by purchasing our

Season-End Deal:
Soledad Barrio & Noche Flamenca Mar. 31 & Apr. 1, 2015
Wendy Whelan: Restless Creature May 2, 2015

SPECIAL SEASON ADD-ON PERFORMANCE: Alonzo King LINES Ballet Jun. 14, 2015




ADULTS reg. $139, Season-End Deal $116

*


*Season-End Deal available only by calling 918-688-6112.
---

-----------------------------------------------------------------------------------------------------------------------------------------


Choregus is an IRS 501(c)3 not-for-profit corporation whose mission is to present outstanding performing arts that would otherwise not appear on Tulsa stages, including multi-cultural presentations, avant-garde music, cutting-edge drama, and modern dance and to engage the community with the visiting artists via educational outreach opportunities.



Our educational/outreach efforts were recognized in 2012 when we were chosen as the recipient of the Oklahoma Governor's Arts in Education Award. Through our participation in the Arts and Humanities Council's Any Given Child Tulsa initiative, 4000 Tulsa Public School 4th Graders attended a Choregus dance performance during our 2013-2014 season.





We continue to expand our educational and outreach activities related to most visiting artists this season with nine educational performances, six master classes, and additional workshops and in-school experiences.




If you find this email helpful and would like to forward to a friend, please use the link at the bottom of this page to forward. Using the forward tab on your personal email server may cause your address to be mistakenly unsubscribed from future Choregus mailings.
From staff sources